Sunday 15-02-2015….too much early in the morning the alarm-clock rang and I stood up, felt like I just felt a sleep.
Just before 7 O'clock I picked up Christina Huebert, and her two dogs Geo and Jerry the pup. We came to International Obedience competition in Sorø just before 8, and stupid me who thought they would run class 1 before the class 2, got something else to think about when I found out that also class 2 started at 8.  ( at that time Coffee still was out in the car…) THAT woke me up for sure.
Coffee did a very nice program, and when we came to the scent stick, I thought nothing could go wrong…well…I will never ever think like that any more. Coffee picked up the wrong stick!  I really don't know what went wrong, and I assume I will never find out. We got a zero in the scent, and that's it.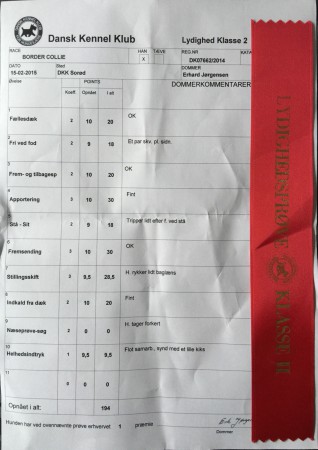 In the class 2 it was 17 dogs, and despite our lost scent-exercise we got 194p (max. 220) and became 3rd winner with a red ribbon 🙂 so now Coffee has got a new title and can call himself LP1 LP2 My Trusted Friend Loves Coffee.
The 1st and 2nd winner was Theo-children so it's really okey being third winner. Congrats to Helle with Mitzi ( Theo/Viva) who won.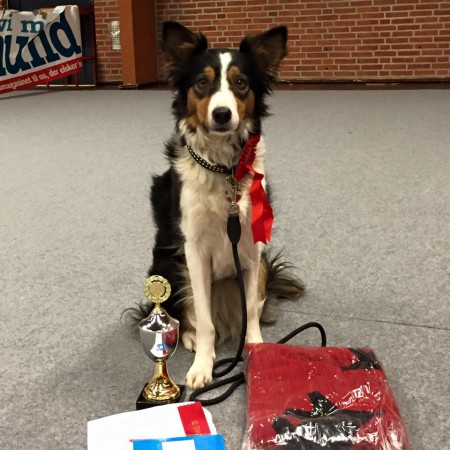 and Helle Søht with Noma ( Theo/Bailey) who became 2.nd winner. Congratulation to both of you!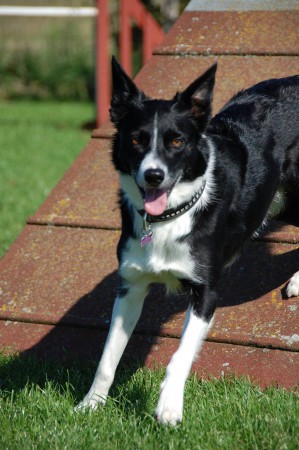 Christina and Geo (Theo/Viva) did a beautiful program and WON class 3. Congratulation!!
Christina also found out that her Geo and Loui ( Theo/Olly) had become 2nd and 3rd winner in the "Obediencedog of the year" in Border Collie club, class 3, 2014. That is so impressing! Congratulation also to that!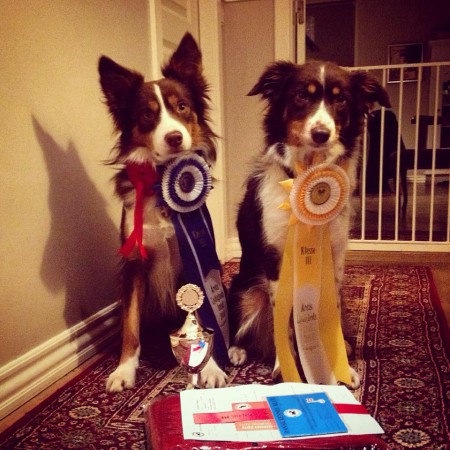 At the same time it was Obedience competition it was also Rally Obedience, and in the expert class Gitte with Bounty (Theo/Viva) joined and got beautiful points. Congratulation Gitte!
Hurray for my sweet Coffee, and hurray for Theo-children with their super-handlers. 🙂